Review of Nauticam housing for Panasonic Lumix GH5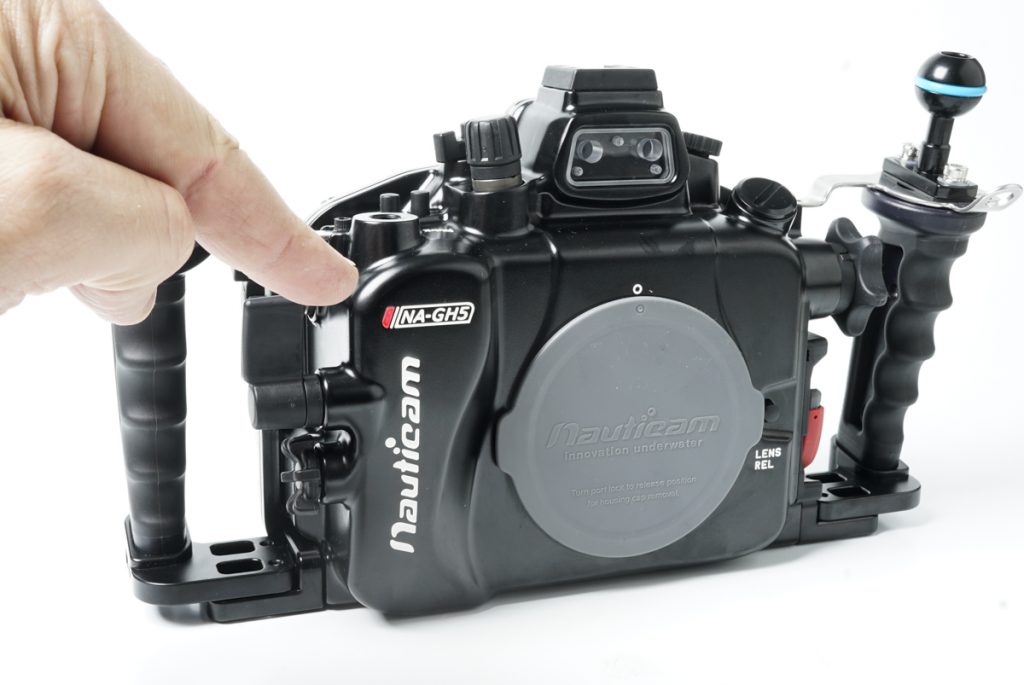 Panasonic Lumix GH5
Rarely a new housing has been awaited with this much anticipation.
The Nauticam housing for the Panasonic Lumix GH5 camera has been time on the way.
But now that the first units has been delivered to us, and forwarded to happy new owners, we have been able to look at the details of this housing.
Check out the price of the GH5 housing on FOTOGRAFIT.eu
GH5 Camera Features
The Panasonic GH5 is a new camera body, positioned above the successful GH4, and improving it in every way. At the core is a 20-megapixel sensor with completely revamped video functionality. When shooting motion, GH5 reads the entire 5K sensor, then resamples in camera to create each individual 4K frame. This results in increased sharpness with no change in lens angle of coverage!  Panasonic didn't stop there, unlocking UHD video capture at up to 29.97 fps with 4:2:2 10-bit chroma sub-sampling. Simply put, this means the GH5 can capture twice the color information with 64x the precision of a 4:2:0 8-bit system.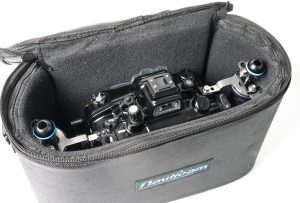 Key GH5 Camera Features
20MP Four Thirds sensor (no OLPF)
5-axis in-body image stabilization system with 'Dual IS 2' support
All 4K footage taken using full width of sensor (oversampled from 5.1K footage)
Internal 4K/30p 10-bit 4:2:2 video capture
4K/59.94p and 50p shooting with 10-bit 4:2:2 output or 8-bit, 4:2:0 internal recording
1080 video at up to 180p, enabling 7.5x slow-motion
9 fps shooting with continuous autofocus
Advanced DFD autofocus
Dual UHS II card slots (V60 ready)
Autofocus point joystick
802.11ac Wi-Fi, NFC and Bluetooth
Pre-configurable rack focus mode
Waveform and vectorscope monitors
Paid upgrade to enable V-LogL video capture with LUT-based preview display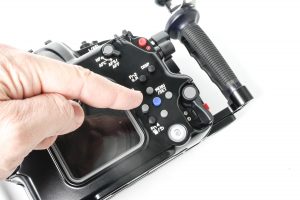 The NA-GH5 Housing
An exceptional hybrid housing to complement an exceptional hybrid camera, NA-GH5 is designed from the ground up with both video and still photo shooters in mind.  Incredible engineering, enabling fingertip control access, has made Nauticam famous.
The housing is small, but not at the expense of functionality or ergonomics.  Integrated handles provide a sturdy and comfortable base to operate the system from.  An ergonomic shutter release lever, thumb lever for AE-L / AF-L, and well-placed control dials provide the same operational feel as any Nauticam DSLR housing.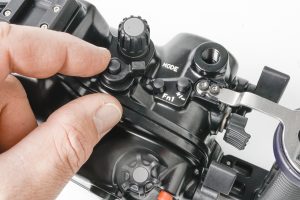 Control buttons are placed within easy reach of the handles, with sufficient spacing to allow easy operation, even by feel. One example of this is a combo lever, accessing both White Balance and ISO, placed directly under the right grip. The ergonomic experience of this system is clearly influenced by Nauticam DSLR systems, with class leading control access and feel.
More than just good looking, this is a rugged housing, ready to tackle thousands of hours of underwater abuse. Crafted from solid aircraft aluminum, the housing can reach depths of 100m with ease. Camera access and lens changes couldn't be easier, and secure locking latches inspire confidence.
The NA-GH5 is a professional grade underwater housing, built with cutting edge manufacturing technology, supporting the pro-level GH5 camera body to its full potential.
Rapid Fire Manual and TTL Flash Triggering via Fiber Optic Cables
Add the optional Panasonic DMW-FL70 Flash inside the housing for reliable, accurate triggering of optical TTL compatible strobes. Rapid fire manual triggering is also available with the Nauticam Mini Flash Trigger (26309).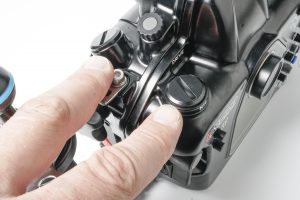 Integrated Vacuum Check and Leak Detection System
The Nauticam vacuum check and leak detection system is available with NA-GH5 as standard equipment. Combined with an optional vacuum valve (PN 25624), this monitoring system provides constant updates on the water tight and safe-to-dive status of the housing. A simple coded LED lighting system lets the user know that the vacuum is solid, or that the housing is losing vacuum. Leak detection is built into the same circuit, so if there is water intrusion, an audible and visual indication will occur.
Full-Size HDMI Out
The GH5 camera features a full size "Type A" HDMI Connector on the camera body, providing a reliable user-friendly connection for external monitors. A new Nauticam Internal HDMI Cable (25073) supports this format!
Details and Specifications
Depth Rating: 100m
Dimensions: 331mm x 184mm x 110mm W x H x D (w/ handles and mounting balls)
Weight: 2.36 kg
Model Number is: 17713
Price and availability
Check out the current price of the Housing on the FOTOGRAFIT.eu website.
Check out the MANY PICTURES in the gallery in the top of this post.