Review of the INON SD Front Mask for GoPro HERO8 and HERO9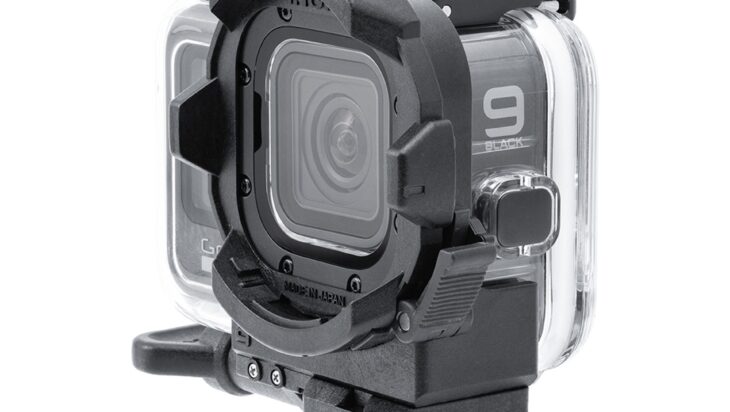 Get the most out of your GoPro HERO8 / HERO9 camera with the new SD Front Mask from INON!
The INON SD Front Mask is an adapter that was specially developed for the GoPro. And, thanks to the bayonet system, enables you to use various INON lenses. The adapter fits the GoPro HERO8 / HERO9 waterproof protective housing.
Also, Inon released an M67 filter adapter for the front masks that you can use with M67 threaded mounts, including Inon's variable red filter.

The SD Front Mask is equipped with the INON "SD Mount" bayonet system. With this, the INON UFL-G140 SD semi-fisheye lens or the UCL-G165 SD wide-angle macro lens can be easily and safely mounted or removed. These two lenses are specially developed for GoPro cameras and you can easily change them underwater.
Simply attach the SD mount to your GoPro so that you can use the wide-angle macro lens and the semi-fisheye wet lens. Inon developed both – the UFL-G140 SD and UCL-G165 SD – for underwater use only, so you cannot use them on land.
You can learn more about the two lenses here:
INON UCL-G165 SD Wide Close-up Lens
An action camera is a deep-focus camera that does not require focusing. And yet, subjects that are very close to the camera (theoretically within a range of 60 cm) are not in focus. Therefore, they are less suitable for underwater macro shooting.
Using a standard macro lens for a compact digital camera would hardly improve the situation. It would lead to vignetting and a very shallow depth of field that would prevent comfortable focusing.
The UCL-G165 SD lens is a so-called "Wide Close-Up lens". This wide-angle macro lens was specially developed for action cameras based on their optical characteristics.
Thanks to the UCL-G165, you can photograph and film objects underwater with your GoPro that is in a depth of field of about 5 to 35 cm. Also, the GoPro's angle of view is increasing from around 94 ° to around 110 °. Therefore the lens offers ideal coverage and an improved distance for capturing marine life.
INON UFL-G140 Semi-fisheye Conversion Lens
The semi-fisheye lens "UFL-G140SD" enlarges the angle of view underwater and minimizes the shooting distance drastically.
An action camera already comes with an ultra-wide-angle lens. But the coverage underwater is dramatically reduced due to the different refraction ratios between air and water. For example, the maximum angle of the GoPro HERO8 / HERO9 on land is approx. 151 °. Underwater this angle reduces to only about 94 °.
The INON UFL-G140 SD counteracts this effect and offers extremely wide semi-fisheye imaging with an angle of view of approx. 140 ° underwater.
Both lenses are great additions to your GoPro. So it is even better INON has recently released the SD Front Mask for the GoPro HERO8 and HERO9.