Nauticam housing for Atomos Shogun HDMI recorder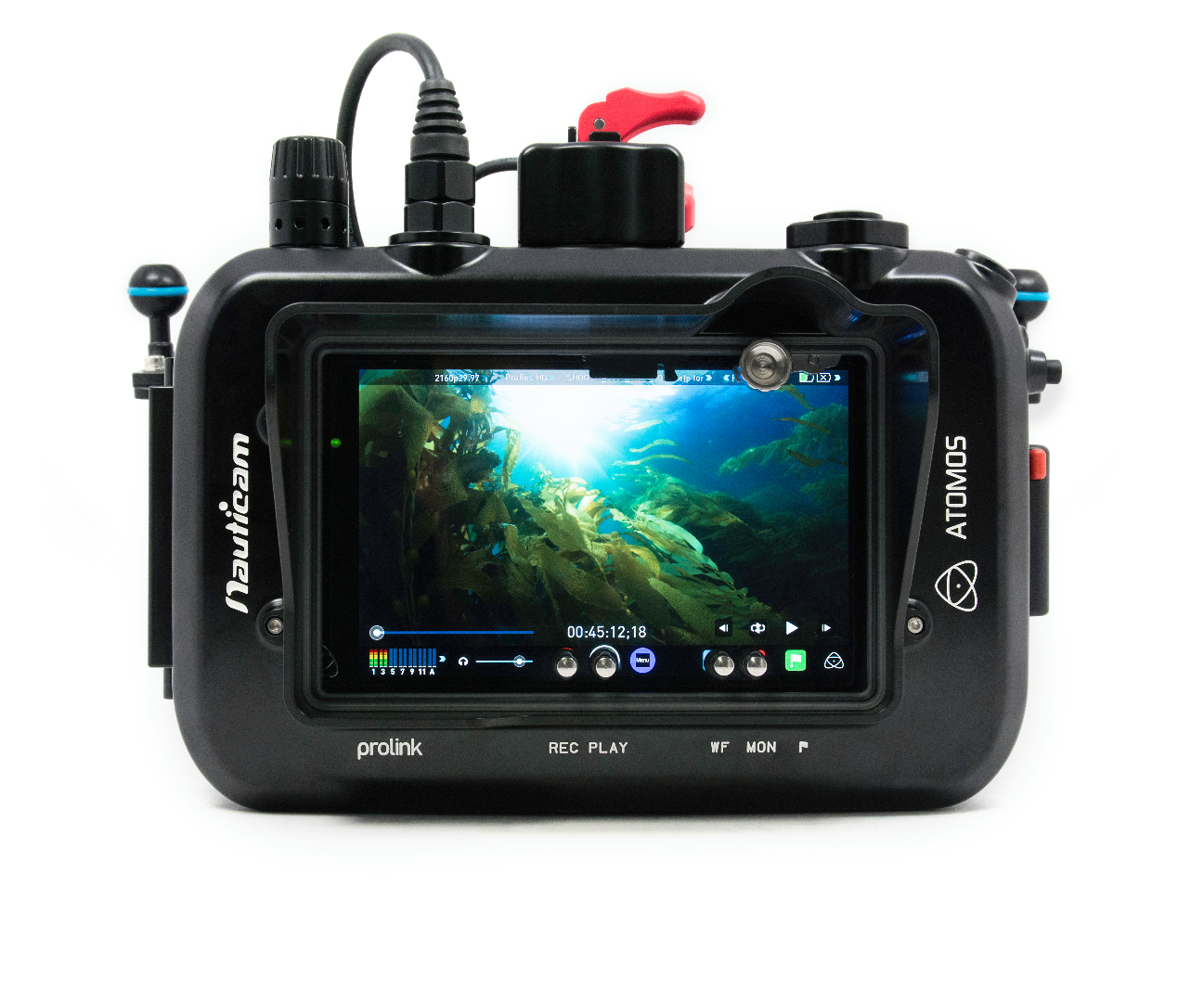 Housing for Atomos Shogun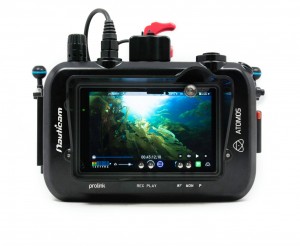 10 Bit 4K SDI/HDMI Recorder Monitor and Player
Nauticam housing for Atomos Shogun recorder/HDMI monitor – Buy here
Atomos Shogun is an extremely versatile and useful video production accessory, filling many vital roles in the content creation pipeline. Shogun has proven its value in countless video production environments since its release in November, and now Nauticam is proud to bring Shogun's tremendous versatility to the underwater environment.
Shogun's ability to record 4K video streams from popular cameras like Sony A7S and Panasonic GH4 has attracted the most attention, but the device is also a very useful on-camera monitor and media player.
Atomos Shogun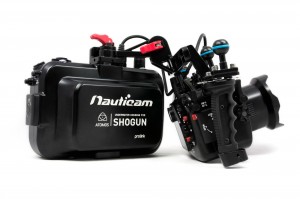 Monitor – Shogun features a 7″ 1920 x 1200 IPS Capacitative touch screen display. The screen is big, bright, and sharp. The available Atomos Spyder Color Calibration Unit enables the user to work in a calibrated color space, and professional onscreen monitoring tools are available to gauge exposure (false color, full waveform, RGB parade) and focus (focus peaking).
Recorder – Shogun unlocks Ultra High Definition recording with the incredibly sensitive A7S, adds 10 bit 4K recording to Panasonic GH4, and captures "edit suite ready" ProRes or DNxHD files from DSLRS. These are high quality codecs that don't require transcoding, and handle color correction well. Shogun records to both spinning hard disks and SSD drives, keeping media costs affordable.
Shogun firmware is constantly being developed, and support for new cameras and formats is being added. Future updates in 2015 will allow Shogun to record raw video streams from Sony FS Series, Canon C500, Arri Alexa, and AJA Cion in ProRes, DNxHR, or Cinema DNG formats.
Player – The intuitive touch screen interface and beautiful screen make Shogun an ideal tool for reviewing video in the field, without the need for a laptop. Favorite and Rejected tags (supporting in and out points) allow video to be sorted prior to ingest. XML files created on Shogun can be dropped straight into the timeline of an NLE (Non Linear Editor, such as Final Cut Pro X or Adobe Premiere Pro)! This functionality will also be improved in future firmware releases, with custom metadata tagging and playlist functionality planned.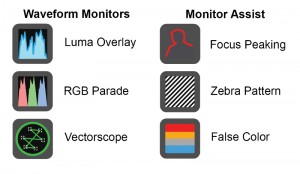 The Nauticam Housing
The Shogun is an amazing device, and deserves an ideal housing for underwater use. Leave it to the wizards at Nauticam to craft a beautiful yet absolutely functional enclosure.
The housing provides the best possible view of the magnificent 7″ Shogun Monitor, while still providing touch screen access to key functions. Buttons at the bottom right corner of the screen bring activate the Shogun "Waveform Monitoring Functions" and "Monitor Assist Functions" overlays. With the overlay active, three useful monitoring functions are available in via a touch screen arm that swings down from the top of the screen, and is pushed to enable a function.
When finished, the touch screen arm can be moved completely out of the way, providing an unobstructed view of the monitor. These tools for judging focus and exposure in water are extremely beneficial, taking much of the guess work out of good video capture.
Monitoring functions available via the Nauticam housing touch screen interface (AtomOS Firmware 6.2)
A touch screen button for record is provided, but isn't needed with most modern cameras sending record triggers over HDMI when the camera record button is pressed. A playback button is also included, allowing review of the last clip in water.
Hassle Free Installation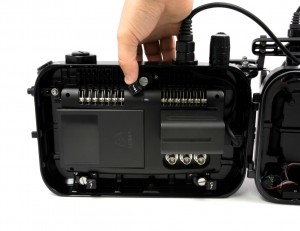 The Shogun mounts securely in the housing with three locking latches. The screen is mounted in the front of housing, face down when open. This mounting strategy allows easy changes of media, batteries, and connection of HDMI and SDI cables.
Nauticam Vacuum Check & Leak Detection System
The Nauticam vacuum check and leak detection system, and vacuum valve, is included in the Shogun Housing as standard equipment. This monitoring system provides constant updates on the water tight and safe-to-dive status of the housing. A simple coded LED lighting system lets the user know that the vacuum is solid, or that the housing is losing vacuum. Leak detection is built into the same circuit, so if there is water intrusion, an audible and visual indication will occur.
Active Fan Cooling
The processing power required to record professional video formats is immense, and that workload creates heat. Shogun uses a cooling rail to dissipate heat in air, and to ensure normal operational temperatures in water the Nauticam housing uses two active cooling fans. These fans distribute heat over the housing back panel where it can be effectively transferred into the water.
The cooling system is powered by a dedicated Sony NP-F550 Battery, providing approximately 12 hours of run time on a single charge. An LED light and external switch allows the fans to be powered on and off from the outside of a sealed housing.
Optional Accessories
17951 – Shogun Housing Mounting System
The Shogun Housing Mounting System (used with housing specific adaptor brackets below) provides a strong, stable, articulating arm to support the Shogun housing on an underwater camera system.
The bracket has four angled positions for use in water, and also allows the monitor to be flipped forward for quick battery and media changes. Rigid locking levers secure the system in place during operation.

17954 – Tripod Mounting Plate for NA-A7 and NA-GH4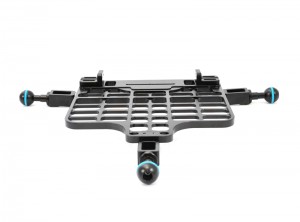 17914 – Monitor Hood for Atomos Shogun Housing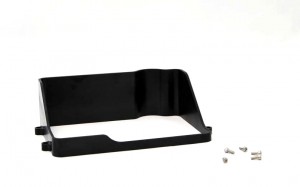 17952 – Nauticam Shogun Housing Mounting Adaptor for NA-A7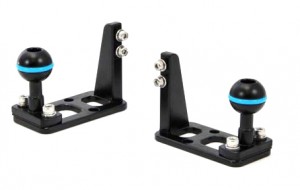 17953 – Nauticam Shogun Housing Mounting Adaptor for NA-GH4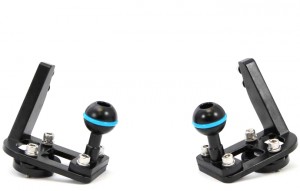 25070 – HDMI Bulkhead with Integrated Cable and Type D Connector (spare for field replacement)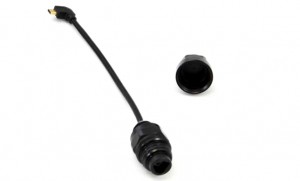 25071 – HDMI Cable (A-D) in .75m Length (for connection from Shogun housing to HDMI Bulkhead, spare for field replacement)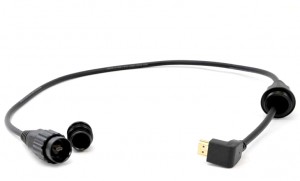 17955 – Mounting Ball for Shogun Housing
Director's Monitor Functionality
In commercial video production environments, it is often necessary that a video feed be sent to a surface monitor for review while recording.
Shogun features an internal HDMI – SDI Cross Convert, allowing an HDMI signal to be converted in monitor to SDI. SDI is a very robust signal transferred over coaxial cable that is extremely reliable in the field, and allows for long cable runs. The Nauticam system fully supports SDI surface feeds with the following accessories.
25060 – Internal SDI Cable for connecting Shogun to SDI Bulkhead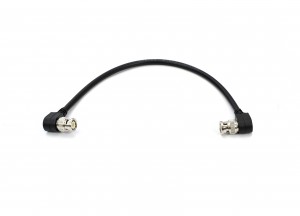 25058 – 16mm Waterproof SDI Bulkhead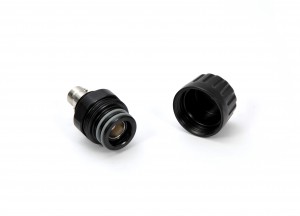 25064 – 15 Meter SDI Surface Monitor Cable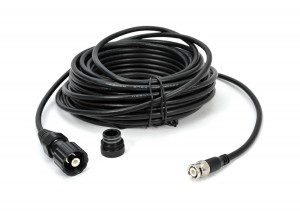 25065 – 45 Meter SDI Surface Monitor Cable SDI Connectivity Also Available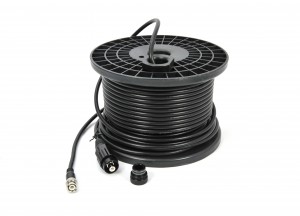 The Nauticam Shogun housing is also available with SDI cabling for video input, making it an excellent monitor / recorder for use with RED EPIC and SCARLET Systems, Arri Alexa, BlackMagic Cinema and Production Camera, Canon C500, and Sony FS Series.
Specifications:
Depth Rating: 60m
Dimensions: 285 x 175 x 120mm (excluding shade and mounting hardware)
Weight: 2.3 kg
Model Number: 17904
Check out pricing and accessories pricing at FOTOGRAFIT.eu
Available Now.