Ultraviolet light – test by Jørn Ari (part 1)
Recently I have asked several people to test equipment for me.
So here you can read some of Jørn Ari's experience with Ultraviolet light.
Jørn is an excellent photographer and a very knowledgable Nudibranch diver, running the website: www.nudibranchia.dk
This is part 1 – of his experience:
Nudibranchs and ultraviolet lighting
PART 1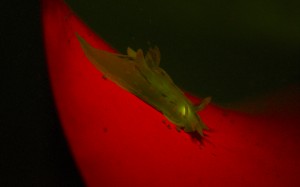 For me, diving and taking pictures of nudibranchs during a dive are undeniably linked to each other. It is usually the main purpose of my diving.
Lars Kirkegaard recommended me a "i-Torch Gen 1.3 Ultraviolet" for the photography of nudibranchs, since he knows all about my passion for these " Jewels of the Sea" and he felt that it was a must for me to try the Ultraviolet lighting. And by using the ultraviolet light he claimed that I would easier find the nudibranchs.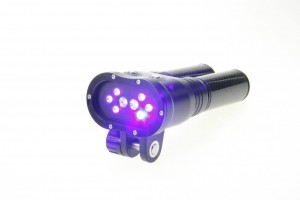 Test dive with the Ultraviolet light in Little Belt
To make things easier for myself during my test dive, I chose Little Belt in Denmark, that I know very well and where my experience tell me there will be a lots of nudibranchs.
Preparing the equipment.
It's January, it's dark, cold, windy and rainy. The water temperature is approximately 3 degrees Celsius, but my spirit is high, since I'm off diving. My underwater camera setup is pretty much the same as when I usually take pictures of nudibranchs:
Nikon D7000 in an Ikelite housing mounted with Ikelite flash. Normally I use a Sola light as focus light, but it has been replaced with the I-Torch Ultra Violet lighting. I opted for a 60 mm lens for this test dive as I expect it to be easier to shoot with this until I get the hang of the ultraviolet lighting setup.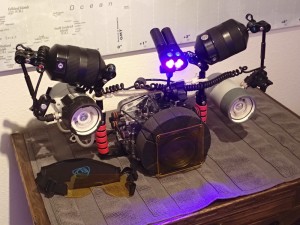 I begin by mounting the yellow filter over my flat port, which is quite easy since it can be fixated by 2 bungee cords. The setup offers an appropriate set of yellow glasses to wear on top of your mask. It is similar to the filter on the flat port, but I don't put these glasses on until I'm ready for the shoot with the ultraviolet lighting. 
Beneath the surface.
I start the dive by turning on the white lights on my I- Torch. My buddy and I dive descend to 5 meters. We have agreed that she will stay in the immediate vicinity of this first dive with the ultraviolet lighting.
First I need to have the camera settings in place. ISO 1000, aperture 10 and a shutter speed of 1/ 50 s, but I end up with a shutter speed of 1/25s. With my buddy placed close by, I put on the yellow glasses. The mask strap is like a regular mask strap and is placed as so.
Now, with the glasses correctly placed, I'm ready to shoot, and I switch from white light to the ultraviolet light. This is easily done by a simple push of a button on the lamp.
Then there was darkness……
When switching from white light of 1600 lumens to ultraviolet light, it becomes very dark, so I turned on the focus light in my Ikelite flash. This however was a bad idea, because the white light interferes with the ultraviolet light. I had to ask my buddy, who was checking on me, not to light in my direction.
I found som brown algae (Laminaria hyperborea), and I started looking for nudibranchs. Brown algae are usually light brown in their coloration, but in the ultraviolet light they were red or tyrian purple. It was somewhat surprising to see the brown color was completely red luminescent. The more of the seabed I saw, the more I saw that it responded to the ultraviolet light, and was luminous. By swiping the light over the sea bed I could easily see the luminous aminals and I found a Polycera quadrilineata sitting on the brown algae and took pictures of it. It seems as if I get some decent pictures when you consider that it is the first time I´m taking pictures with the ultraviolet light setup, but it is a completely new way of working.
When I look back on this particular dive and the experiences gained, I'm looking so much forward getting in the water again, finding some more nudibranchs, taking some more pictures with the ultraviolet light.
My conclusion is that the ultraviolet light actually works and the nudibranchs glove in the dark.
(all pictures in this post is taken by Jørn, at his first dive)
Read Lars BLOG POST about the Ultraviolet light here:
http://blog.fotografit.eu/ultraviolet-light-funny-glasses.html
Comments
comments