Ultraviolet light – test by Jørn Ari (part 2)
Nudibranchs and ultraviolet lightning
Part 2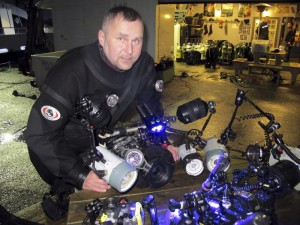 Norway March 2014
Every year in March, I go to Gulen located on Norway's west coast, to participate in a Nudibranchsafari. The purpose of this safari is to find as many different species in a week, in order to map the spread of them and increase the knowledge of their life. Participants are some of Northern Europe's best marine biologists, general nudi geeks and underwater photographers both digital SLRs and compact cameras.
When nudibranchs are found , they are gently taken ashore, and looked at under a microscope for final identification. Some are sent for DNA analysis in order to determine whether it is a new specie.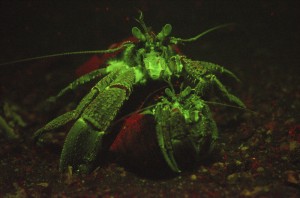 Nightdive with ultraviolet light
When nightdiving in a Norwegian fjord, it is an advantage to have dived in daylight a few times before, because it's all black in the water. There was no help from the moon as it was hidden behind a thick cloud cover. The dive time is scheduled for 60-90 min with a maximum depth of 15 m. I dive to the desired location / depth with the light of my I-Torch i-Gen Ultraviolet and mount the yellow filter on my flat port and put on the yellow glasses outside my mask, and turn on the UV light. (get an overview of all the recent underwater ultraviolet lights here)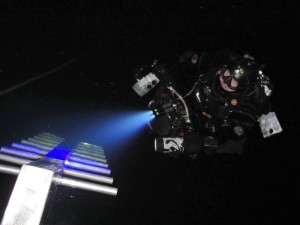 Huge nudibranch
I am struck by luck because I don't search for long before I see something red fluorescent light up in the darkness. Under a bush of seaweed, there are two well camouflaged nudibranchs of the genus "Doris Pseudoargus".
Doris pseudoargus is usually difficult to spot, as its camouflage causes it to coincide with the base colors.
The first thing I notice is that the patches which usually are purple (like the mountains) are those that react to ultraviolet light. There is also an edge on the nudibranchs back part of the mantle, under the gillbush that lights up, something that makes me think whether it's a warning to the fish in the dark not to get too close?

Not only nudibranchs
After several dives with ultraviolet light, I observed that it is not only slugs that react to the UV light, but also other marine inhabitants. Sea spiders (Nymphon gracile), hermit crabs (Pagurus Bernhardus), contracted crabs (Hyas Coarctatus) and Arctic kauris (Trivia Arctica).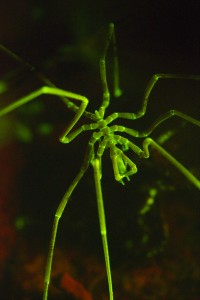 I was somewhat surprised when I saw the number of sea spiders (Nymphon gracile) in the ultraviolet light. The body/legs glowed greenish while all its joints shone in the darkness. Basically a funny animal, where there is so little space in the body, so the internal organs are located in the legs.
Arctic kauri (Trivia arctica) is a species of shell snail I had not noticed before. In the ultraviolet light it looked like a red jewel where the light streamed from. In Norwegian it is called "coffee bean" and when you see its shape then you will understand the name.
Back in Denmark
Now I'm back in Denmark, and looking forward to diving some more with the ultraviolet light. There are so many places in Denmark, I would like to try to dive with the fluorescent light and discover new exciting colors and perhaps species I have not seen before.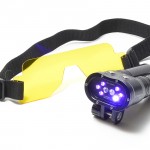 Get your own Ultraviolet light!
Picture text to image gallery:
Doris pseudoargus:
The nudibranch Doris Pseudoargus seen from the front of the animal. Red spots spread all over the body.
Doris pseudoargus 2:
Red fluorescent under the gill bush of Doris pseudoargus.
Doris pseudoargus 3:
Very easy to spot this Doris pseudoargus with the red fluorescent pattern.
Ermit crap:
Mr. & Mrs. hermit crab (Pagurus bernhardus),
Ermit craps 2:
Nice view from the side of these two hermit crabs (Pagurus bernhardus).
The shell becomes red in the fluorescent light.
Facelina bostoniensis:
On the rocks.
Flabellina nobilis:
Upside down eating Tubularia indivisa
Flabellina nobilis 2:
On its way up to the food. (Tubularia indivisa)
Sea Spider:
Close up of the sea spider (Nymphon gracile),
Sea Spider 2:
Sea spider (Nymphon gracile), on the rock.
Nordlig kauri:
This bubble shell called Artic cowrie (Trivia arctica) looked like a red pearl.
Pyntekrabbe:
Contracted crab (Hyas coarctatus) in close up photo.
Pictures of Jørn:
Tina Malmgren
You can read some of Jørn Ari's experience with Ultraviolet light.
Jørn is an excellent photographer and a very knowledgable Nudibranch diver, running the website: www.nudibranchia.dk
Comments
comments