Ultraviolet light – all about funny glasses?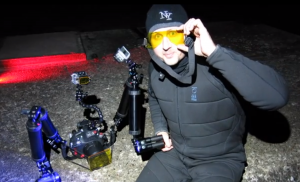 A couple of years ago Light & Motion released their new Ultraviolet lamp, called SOLA Nightsea.
A great lamp… good looking as always, but darn expensive!
…my expectations was high, as we have a lot of macro photography in this area and I expected to be able to find a lot of critters using it, even in poor visibility.
I WAS surprised at my first dive… the world of diving changed into a sub-world where kelp turned deep psychedelic red and my sight transformed into a tunnel-vision that was quite claustrophobic. It was a night dive during winter and not many animals to be seen. And even less now that my sight had been restricted.
Overall the light only turned a few items fluorescent, simply because there was not many animals around!
The light was then in my office for several month until I was invited on a Nudibranch trip to "Lillebælt" (a narrow straight of Denmark, with good vegetation and many animals). A weekend of underwater-photography for nerds. Great fun.
I brought the light on the first dive Friday night and did not have high expectations. But after getting into the water on one of the regular sites and placing myself on a spot where I had never seen any Nudies (I rarely see them), I was shocked to experience not less than 7 of them was right next to me. It turned out that I simply did not know what to look for until the light beamed them into my eyesight!
Surprise…!
After that I have got a lot more faith in the uv. light and seen it work on several occasions. It is a lot of fun and reveals the most surprising things.
I never sold many Nightsea lights… simply because they were over priced and no one wanted to invest that much money in a light that could only be used for fluorescent diving. But then a new product came out from i-Divesite…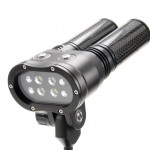 The "i-Torch Gen 1.3 Ultraviolet light" cost almost half of the SOLA light. And despite being a powerful uv light it is also an amazing video light. It has 2 functions with a couple of power settings, so it is now possible to both do fluorescent scouting and to be using the light as a regular photo- video light, which makes the investment a lot easier to do for the diver.
So I am quite confident that we will see a lot of new fluorescent divers around in the future… after all… it is a whole new world that opens, once you spot those creatures that react to the ultraviolet light.
You should try it!
Have a look at my video, which I made – and consider getting a light of your own. Don´t forget the yellow glasses and the yellow filter – or you will not be able to filter out the blue light, and reveal those fluro-colours…
Have fun!
Comments
comments