i-Divesite Pro-7 Video light (5000 lumen)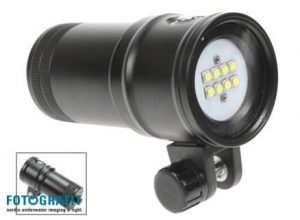 I have had the i-Torch lights for sale for a while now, with a lot of happy dive customers as a result.
The lights are very small, simple and gives a very wide beam and an even white light.
And the light is very affordable.
As a comparison, it is only half the size of a SOLA4000…. and almost only half the price.
…it is possible to change the battery-pack if needed on all the lights.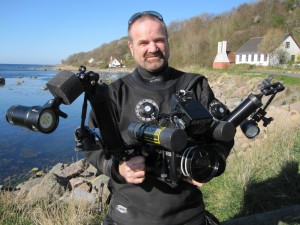 Over a longer time period, I have been in contact with Lars Philipsen (diver on the picture), who is the filming part, of a very active wreck hunting team at Bornholm. The team has made a series of small wreck movies, that has been entertaining people at the local TV station (TV2Bornholm) Lars has been looking for good video lights that are easy to use, since most of their dives are done far from the coast, at wrecks most often between 40-70 meters.
The SOLA4000´s has been talked over again and again (Lars is a very thorough guy), but finally I sent Lars a unit of the Pro-7 to bring along on a dive. So he used his own light at one side, and the Pro-7 at the other. (the Pro-7 are now updated to the Fish-Lite V50)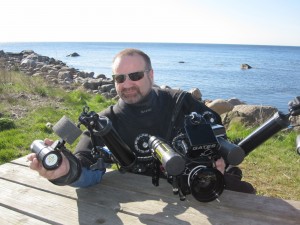 I was a bit concerned, to say the least… having my equipment tested by active guys that REALLY know what they want – and testing it outside the limits of normal recreational diving, is always a bit of a challenge… And the dark, deep, muddy waters of the Baltic Sea IS a mouthful…!
In fact, since I could not control the end result – and what they did with the unit – I could only pray for the best 🙂
However, the light performed very well. Lars was happy.
It was not the best solution only to use one light, but the light still performed better, than the ones he had.
Overall the conclusion was, that the light was very wide – very powerful – small and handy, and could be used exactly for what it should…
Below you can see the result of the dive:
The only problem now… time to invest! 😉
I look forward seeing new films from the team in the future, using the new light.
You can see more of Lars´ wreck films at Video: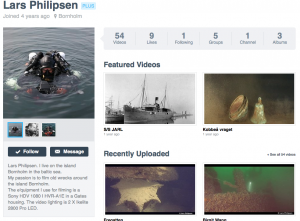 Comments
comments